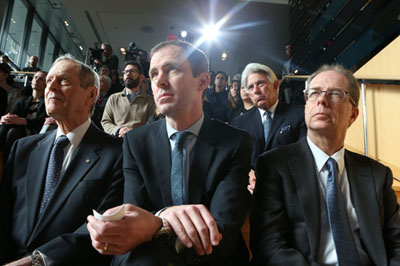 On World Cancer Day, The Hospital for Sick Children (SickKids) was the venue for an announcement of $11.7 million in cancer research funding. Stand Up To Cancer Canada (SU2C), along with their partners from the federal and provincial governments and other funders introduced the SU2C Canada Cancer Stem Cell Dream Team, led by SickKids Dr. Peter Dirks and co-led by Dr. Samuel Weiss, Hotchkiss Brain Institute and the University of Calgary.
This SU2C Canada Dream Team, will focus on brain cancer stem cells, in both adults and children, which can be resistant to treatment and drive tumour regrowth.
Dr. Michael Apkon, SickKids President and CEO, kicked off the event by welcoming all to SickKids, including Terry Beech, MP, Parliamentary Secretary to the Minister of Science, the Honourable Reza Moridi, Ontario's Minister of Research and Innovation, Dr. Alan Bernstein, Co-Chair of SU2C Canada and President and CEO of the Canadian Institute for Advanced Research, Robert N. Klein, Board Member of the Entertainment Industry Foundation and the Ontario Institute of Cancer Research, Marc LePage, President and CEO of Genome Canada, Dr. Stephen Robbins, Scientific Director, Institute for Cancer Research, Canadian Institutes for Health Research, Dr. James Till, President, Cancer Stem Cell Consortium, and Blue Jays play-by-play announcer, Buck Martinez.
Apkon discussed the importance of collaboration in fighting cancer, a disease that doesn't discriminate. "It is by working and innovating together, both at SickKids and with our colleagues in Toronto, across Canada and around the world, that we can continue to fight cancer and improve outcomes for people of all ages," said Apkon.
Dirks, showed his passion and excitement noting that it was the greatest day of his professional life. "For me it starts with people, these are diseases that affect individual's lives and we can do better; we must do better," said Dirks, Senior Scientist and Neurosurgeon at SickKids and Professor of Neurosurgery and Molecular Genetics at the University of Toronto.
This project has given me the strongest feeling of hope to move forward; but we need team work." Dirks reinforced the point that collaboration is such an important part of all the SU2C Dream Teams, and that this one would be no different. "This project will enable the truest collaborations without barriers, everything is shared and everything will be made available so that the legacy of this project will be data that can be used in the future so others can build upon our work."