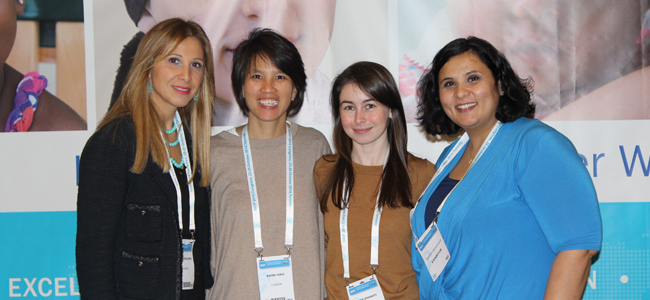 Leveraging the tremendous platform that the 26th Congress of the International Society of Paediatric Oncology (SIOP) provided, the Garron Family Cancer Centre (GFCC), SickKids International (SKI) and the SickKids Centre for Global Child Health (CGCH) joined forces to share with conference delegates the many ways in which SickKids is striving to improve the care of children with cancer in Toronto and around the world.
"The partnership that we formed with GFCC and CGCH for the conference came about very naturally; it reflects the collaborative relationships that have always existed between our groups," says Lara Pietrolungo, Director of International Education at SickKids International. "When we learned that SIOP 2014 would be taking place in Toronto, we immediately recognized that it would be a wonderful opportunity for our SickKids community. As the home of the Garron Family Cancer Centre, Canada's foremost paediatric cancer centre, SickKids has so much to share with and learn from our global colleagues."
Throughout the course of the four-day congress, interdisciplinary staff members from SKI, GFCC and CGCH worked together to manage a booth within the exhibition space of the conference.
"Having a booth at the conference allowed us to interact and connect with conference delegates from around the world in a way that would otherwise not be possible" said Dr. Jim Whitlock, Division Head, Haematology/Oncology and Director of the Garron Gamily Cancer Centre at the Hospital for Sick Children (SickKids). "The congress highlighted many untapped opportunities for innovative, meaningful collaborations within paediatric oncology."
In addition to providing a venue for building new connections, the world's largest annual paediatric cancer meeting also provided a backdrop for the continued growth of existing relationships between SickKids and its partner organizations.
In conjunction with the conference, the Centre for Global Child Health hosted a delegation from the SickKids-Caribbean Initiative, an ongoing non-profit collaboration between SickKids and seven institutions across six Caribbean countries that are working to improve the outcomes and quality of life of children with cancer and blood disorders.
SickKids International was also able to build upon events associated with the conference, welcoming a delegation of international learners from Japan and co-hosting a fundraising gala that was held to support the ongoing partnership between SickKids and Greece's Aghia Sofia Children's Hospital.