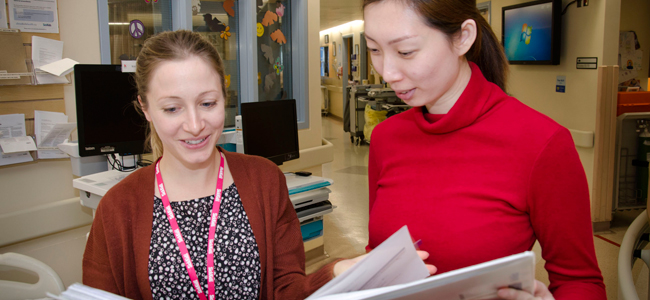 Children born with cleft lip and palate conditions often require complex and highly specialized health care. Health professionals from around the world look to learn about caring for these patients from the best paediatric hospitals.
For Peggy Yeo and Karen Lee Shi Mei, that meant coming to SickKids.
Peggy and Karen are recent graduates of the International Learner Program (ILP) at the Learning Institute. The two participants, from KK Women's and Children's Hospital in Singapore, took part in a six-week observership in SickKids' Cleft Lip and Palate Program.
Launched in 2010, the ILP allows international health-care professionals to take part in observation or hands-on practice experiences in specific areas of training. The program's goal is for participants to apply the knowledge gained in Toronto to their practice in their home countries.
Peggy and Karen each received a customized learning plan based on their professional objectives as well as mentorship from SickKids staff, access to policies, procedures and educational materials, and inclusion in patient and clinical related activities. They also spent two weeks of the program observing long-term care patients at Holland Bloorview Kids Rehabilitation Hospital.
"Every day was different. We got to learn about clinical and technical services different from our own, but also about how SickKids operates on a day-to-day basis," said Peggy, a senior staff nurse who works with plastics patients in Singapore.
"The focus on the 'team' and patient-centred care at SickKids was great."
Karen, a speech and language therapist who focused on feeding assessment and intervention as part of her learning goals, says she gained new insight on her profession.
"I was able to shadow three occupational therapists and observe how each of them assess a patient. Those are methods I can take back and share with my team."
For both Peggy and Karen, SickKids' interdisciplinary approach stood out the most during the program.
"Everyone is aware of each other's roles and skills at SickKids. I may be a speech language therapist but I learned that I should be considering other points of view – including the family's – and that those views can improve my own decision-making," said Karen.
Cindy Guernsey, a Nurse Coordinator in the Cleft Lip and Palate Program, says that interprofessional care is embedded at SickKids.
"A child born with cleft lip and palate can have issues with speech, hearing, dental, orthodontics, psychosocial and surgery. These issues require an experienced interdisciplinary team to develop a comprehensive treatment plan of care and continuous communication between all team members," she said.
"My team was able to identify on-going learning opportunities and Leah Paterson, the ILP coordinator, was able to follow up with Peggy and Karen. The length of the program is also more supportive for learning especially when dealing with cleft lip and palate issues," said Cindy, who took part as an ILP instructor for the first time.
Kate Turner, who has worked at SickKids for seven years as an Occupational Therapist, says working as an instructor allowed her to reflect on her own practice.
"It helped me as a therapist because I was able to organize my thoughts and understand how I work as I explained things," she said. "We threw them in a million places but it was also a whirlwind experience for us."
Other SickKids staff that collaborated to create this learning program include Paula Klaiman, Speech Language Pathologist; Veronika Langos, Clinical Dietitian; Stephanie Lappan-Gracon, Senior Manager, Clinical Programs; Sandhaya Parekh, Interprofessional Education Specialist; and Alana Black, Interprofessional Education Specialist.
More than 330 learners have taken part in the program from 48 countries. Identified opportunities and learning experiences are programmed and coordinated by Leah Paterson, ILP coordinator in International Education at the Learning Institute. International Education services offers paediatric specialty education and training services that are customized to learner's specific needs, and can take place at SickKids or in their home country.
"Our success as a program is a reflection of our staff's expertise and dedication to sharing our knowledge and skills with the world," said Lara Pietrolungo, Director, International Education.
In addition to their observership, Peggy and Karen also had the opportunity to attend various lectures at the University of Toronto and meet with a range of professionals at SickKids.
Karen says she's heading back to Singapore with a fresh new perspective.
"We're excited to go back and find ways we can improve protocols and promote a more interdisciplinary culture at our hospital," she said. "We got to learn from the best."
Clinical and non-clinical healthcare professionals interested in their own unique paediatric learning opportunity are invited to complete our online application.
For additional information regarding the International Learner Program, please email ilp.requests@sickkids.ca or call 416-813-5703.