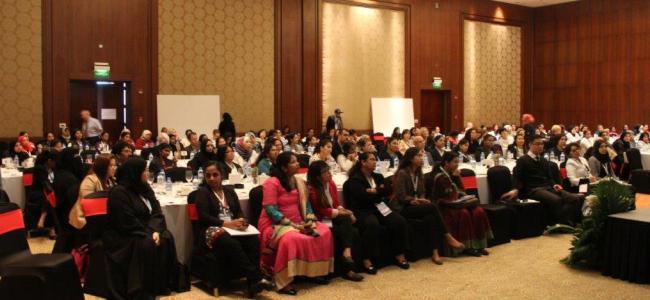 DOHA, Qatar, Mar. 1, 2015 /Gulf Times/– Hamad Medical Corporation (HMC), in partnership with The Hospital for Sick Children (SickKids), Canada, recently hosted the 3rd Paediatric Nursing Symposium, under the theme, 'Towards Sustainability: Leadership in Action'.
The two-day symposium attracted more than 200 nursing professionals, including charge nurses, head nurses, nurse educators, and clinical nurse specialists. The event featured lectures and dynamic presentations from international and local nursing leaders, highlighting topics such as the journey of Qatari paediatric nurse leaders, leading in family-centred practices, nursing empowerment in the clinical practice environment, and nursing leadership in paediatric pain practices.
The symposium catered to nursing professionals to promote innovation in leadership, to adopt evidence-based best practices, and to advance sustainable change to provide the best care possible to the patients.
Chief nursing officer at HMC, professor Ann-Marie Cannaby delivered the opening remarks at the symposium. She stated: "This symposium builds on from our ambition to ensure that paediatric nurses working across HMC hospitals are well-equipped with the tools and skills they need to act as advocates for their young patients and their families. Since nurses work as direct care-givers within clinical practice, it is fundamental that they feel empowered within their roles."
The international keynote speaker for the first day of the symposium was professor Judith Ellis, chief executive officer, Royal College of Paediatrics and Child Health in the UK. Ellis' talk, entitled 'Leadership in Action', shed light on her journey as a nursing executive who paved the path for best practice environment through nursing advocacy and leadership.
Pam Hubley, chief, professional practice and nursing, Hospital for Sick Children, Canada delivered the keynote lecture on the second day of the symposium. Her session, entitled 'What is Driving Change: Practice or Technology?' examined the idea of effectively utilising technology to modify nursing practices for enhanced patient outcomes.
The symposium for paediatric nurse leaders further developed nursing leadership capacity through reflection and sharing of local accomplishments, particularly highlighting that all nurses can be leaders no matter what position they hold and that a commitment to life-long learning is integral to ensuring nurses are empowered to provide excellent nursing care within a healthy work environment."
During the two days of the conference, nurses received hands-on training and high-quality mentorship from senior nurse leaders. A series of facilitated leadership exercises engaged nurses in advancing conversations that relate to a shared vision, coaching others and recognising performance to positively influence a best practice environment.